Es gibt sie noch, die unentdeckten Mischgetränke aus vergangenen Zeiten, die es wieder zu entdecken gilt. Der Story Cocktail gehört definitiv dazu und zeigt, daß Boonekamp Bitter, wozu Underberg zählt, in der Bar heute viel zu wenig eingesetzt wird. Dabei ist er schon für Harry Johnson eine Notwendigkeit gewesen.
40 ml Underberg
40 ml Pierre Ferrand 1840 Cognac
Zubereitung: Gerührt.
Alternativ und von uns aktuell bevorzugt:
40 ml Underberg
40 ml Park XO Cognac

Boonekamp Bitter
Um die historische Einordnung des Story Cocktails besser zu verstehen, müssen wir uns zunächst einmal mit diesem Bitter beschäftigen.
Petrus Boonekamp
Unter Boonekamp versteht man einen Magenbitter mit einem Alkoholgehalt zwischen 40 und 49 vol% und maximal 3 Gramm Zucker pro 100 Milliliter. Seinen Ursprung hat der Boonekamp im südholländischen Leidschendam. Dort stellte um 1780, andere Quellen sagen 1743,  ein Apotheker namens Petrus Boonekamp einen Bitterlikör aus Genever und Kräutern her. Bald verbreitete sich diese Likörart in Holland und Belgien. Die verschiedenen Rezepturen variierten, wurden aber insgesamt als Boonekamp bezeichnet, so daß diese Bezeichnung schließlich ein Gattungsbegriff wurde. [1] [7]
Underberg
Hubert Underberg aus Reinberg am Rhein erhielt in Holland und Belgien seine Ausbildung, lernte dort den Boonekamp kennen, und entwickelte eine eigene Rezeptur dafür. In seiner Heimatstadt gründeten er und seine Frau Katharina Albrecht am 17. Juni 1846, dem Tag ihrer Hochzeit,  eine eigene Firma. Sie vertrieben ihren Kräuterbitter als "Boonekamp of Maagbitter". 1894 trat ein Gesetz zum Schutz von Warenbezeichnungen in Kraft. "Boonekamp" war zu einem Gattungsbegriff geworden und ließ sich daher nicht schützen. Deshalb wurde der Magenbitter als "Underberg" vom Kaiserlichen Patentamt als Warenzeichen anerkannt, und darüber hinaus auch die mit gelb-braunem Strohpapier umwickelte Flasche. [1] [2] [3] [4] [5]
Underberg belieferte bereits in den 1860er Jahren Österreich-Ungarn und wurde schließlich 1912 in Österreich zum kaiserlichen und königlichen Hoflieferanten ernannt. [3] Doch auch andere Exportmärkte wurden erschlossen. Im Mai 1860 begann Hubert Underberg die Korrespondenz mit einer hamburgischen Reederei, um den Export in die USA vorzubereiten, und drei Monate später wurden die ersten 50 Kisten Underberg nach San Francisco verschifft. Underberg war auch auf den amerikanischen Weltausstellungen vertreten, 1876 in Philadelphia, 1893 in Chicago und 1904 in St. Louis. Während der Prohibition durfte Underberg in Saloons zwar nicht mehr verkauft werden, aber da er als Medizin galt, konnte man ihn im Einzel- und Großhandel erwerben. [6]
Aus Mangel an Rohstoffen wurde die Produktion 1939 eingestellt und erst 1949 wieder aufgenommen. Die bekannte 20-ml-Flasche, in der der Underberg heute vertrieben wird, wurde 1949 von Emil Underberg I. entworfen. [3]
Den Underberg zeichnet aus, daß er nur aus Wasser, Alkohol und Kräuterextrakten hergestellt wird. Es wird kein Zucker, Karamell oder Zuckercouleur hinzugefügt. Er reift in Fässern aus slowenischer Eiche. [4]
Der Story Cocktail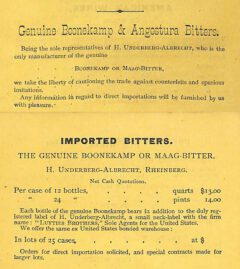 Werbung für Boonekamp von Underberg findet man schon in der 1883 erschienenen Ausgabe von Jerry Thomas' Buch "The Bar-Tender's Guide" aus dem Jahr 1876. [8] Auch Harry Johnson schreibt, daß Boonekamp Bitter zu den Notwendigkeiten in einer Bar gehört. [9-22]
Doch es sollte noch bis zum Jahr 1908 dauern, bis ein Rezept für ein Mischgetränk tatsächlich explizit einen Boonekamp einfordert. Der Story Cocktail erschien erstmals in Jacob Abraham Grohuskos Buch "Jack's Manual" im Jahr 1908.
Eine Durchsicht zeitgenössischer Zeitungen belegt, daß insbesondere zwischen 1905 und 1907 zahlreiche ansprechende bebilderte Werbeanzeigen für die "Underberg Boonekamp Bitters" erschienen. Wir haben sie im Anhang, nach den historischen Rezepten, für den interessierten Leser beigefügt. Sie werden mit "der beste Bitter der Welt" – "The best bitters in the world" [U1] beworben und zahlreiche gesundheitliche Vorzüge werden vorgebracht. Es wird angeboten, gratis Probefläschchen erhalten zu können. [U4] Interessanterweise werden in dieser Zeit auch die Damen der Gesellschaft angesprochen, denn "die Herren und Damen der Gesellschaft wissen, daß der Underberg Boonekamp Bitter nicht nur köstlich ist, sondern durch die Stärkung des Systems auch zur Schönheit beiträgt." – "society men and women know that Underberg Boonekamp Bitters is not only delicious but adds to beauty by toning up the system." [U5] 1905 schreibt man, mehr als sechs Millionen Flaschen, damals noch große Flaschen, seien bereits in den Vereinigten Staaten importiert worden. [U5] 1906 schreibt man im New York Herald vom 7. Januar 1906 sogar, "eine höchst merkwürdige Modeerscheinung dieser Saison … ist es, anstelle eines Cocktails einen Kräuterauszug zu servieren. Man sagt, das sei gut für die Gesundheit. Dieser neue Cocktail wird in Deutschland hergestellt." – "A most curious fad this season … is to serve a decoction of herbs in the place of a cocktail. It is said to be good for the health. This new cocktail is made in Germany." Gemeint sind damit Underberg Boonekamp Bitter. [U13] Underberg ist "angenehm wie ein Cocktail und besser für Sie." – "Enjoyable as a Cocktail and better for you." [U14] Man verkündet "Ein sicheres, wohlschmeckendes, wohltuendes, stimulierendes Tonikum ist eine Notwendigkeit für jeden beschäftigten Mann und jede beschäftigte Frau. Nach Geschäftssorgen, späten Arbeitsstunden, Einkäufen oder mühsamen Reisen kommt nichts dem Underberg Boonekamp Bitter gleich. Stärkt die Nerven und schafft einen gesunden Appetit." – "A safe, delicious, beneficial, stimulating tonic is a necessity with every busy man and woman. After the worry of business, late hours, shopping or tedious travel nothing equals Underberg Boonekamp Bitters. Braces the nerves and creates a wholesome appetite." [U15] Auch für Kinder ist er anscheinend geeignet, wie eine Abbildung vermuten läßt. [U16] Er ist geeignet für die sportliche Frau, die im Freien in einem Kanu paddelt oder Golf spielt – welch moderne Ansichten. [U17] [U19] 1906 trifft man die Aussage "In Sherry oder in Mischgetränken ist UNDERBERG jedem anderen Bitter vorzuziehen." – "With sherry or mixed drinks UNDERBERG is preferable to any other bitters." [U26] Underberg muß erfolgreich gewesen sein, so daß es zahlreiche Nachahmer gab, und so sah man sich 1907 dazu gezwungen, zu schreiben, "VORSICHT Aufgrund der Popularität des Underberg (Boonekamp) Bitters sind viele Imitationen aufgetaucht und werden häufig irrtümlich akzeptiert. Wir sehen uns daher gezwungen, das Wort "Boonekamp" in der zukünftigen Werbung wegzulassen und alle, die das Echte wünschen, aufzufordern, nach Underberg Bitter zu fragen. Lassen Sie es bei Mischgetränken "Ein Schuss Underberg Bitters" sein." – "CAUTION Owing to the popularity of Underberg (Boonekamp) Bitters, many imitations have appeared and are frequently accepted in error. We are compelled, therefore, to omit the word "Boonekamp" from future advertising, and to request all who wish for the Genuine to ask for Underberg Bitters. With mixed drinks, let it be – "A dash of Underberg Bitters."" [U29]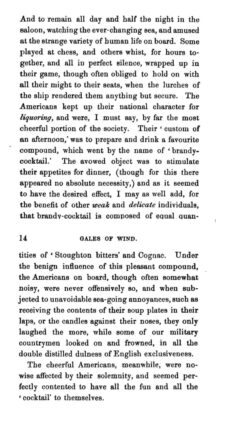 Der Story Cockytail scheint mit seiner Mischung aus einem Teil Bitter und einem Teil Cognac ungewöhnlich zu sein, doch schon lange vor seiner Entstehung trank man Vergleichbares. Bereits im Jahr 1850 schrieb Mrs. Housoun in ihrem Buch ›Hesperos: Or, Travels in the West‹ etwas über Amerikaner auf einer Schiffsreise: »Ihre ›Nachmittagssitte‹ bestand darin, eine beliebte Mischung zuzubereiten und zu trinken, die den Namen ›Brandy-Cocktail‹ trug. Das erklärte Ziel war es, ihren Appetit für das Abendessen anzuregen, … und da es die gewünschte Wirkung zu haben schien, kann ich zum Nutzen anderer schwacher und empfindlicher Personen hinzufügen, dass der Brandy-Cocktail aus gleichen Mengen von ›Stoughton Bitters‹ und Cognac besteht.« [10-13] [10-14]
– »Their 'custom of an afternoon,' was to prepare and drink a favourite compound, which went by the name of 'brandy-cocktail.' The avowed object was to stimulate their appetites for dinner, … and as it seemed to have the desired effect, I may as well add, for the benefit of other weak and delicate indiciduals, that brandy-cocktail is composed of equal quantities of 'Stoughton bitters' and Cognac.« [10-13] [10-14]
Quellen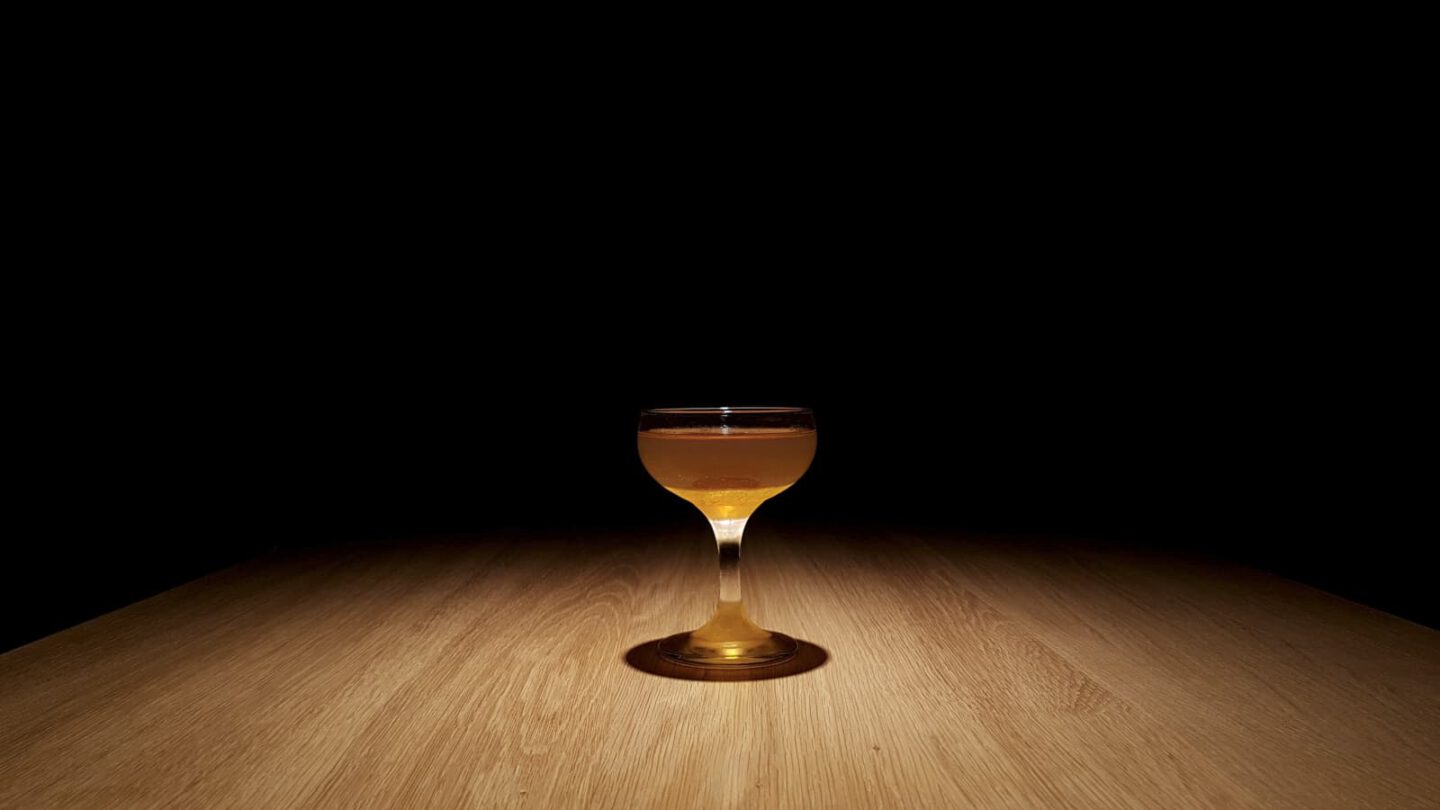 Historische Rezepte
1908 Jacob Abraham Grohusko: Jack's Manual. Seite 56. Story Cocktail.
50% Bonecamp bitters
50% Martell brandy
Frappe, strain and serve.
1910 Jacob Abraham Grohusko: Jack's Manual. Seite 76. Story Cocktail.
50% Bonecamp bitters
50% brandy
Frappe, strain and serve.
1913 Jacques Straub: A Complete Manual of Mixed Drinks. Seite 44. Story Cocktail.
STORY COCKTAIL
1/2 Jigger Boonekamp Bitters.
1/2 Jigger Good French Brandy.
Frappe.
1914 Jacques Straub: Drinks. Seite 39. Story Cocktail.
1/2 jigger boonekamp bitters.
1/2 jigger good French brandy, Frappe.
1916 Jacob Abraham Grohusko: Jack's Manual. Seite 70. Story Cocktail.
50% Boonekamp Bitters
50% Brandy.
Frappe, strain and serve.
1927 Anonymus: El arte de hacer un cocktail. Seite 69. Story (Cuento).
1/2 Angostura bitters.
1/2 Domecq Fundador.
Bátase, y sírvase bien frapé.
1930 Gerardo Corrales: Club de cantineros de la Republica de Cuba. Seite 65. Story Cocktail.
1/2 Boonekamp bitters.
1/2 cognac Francés. Frapé.
1933 Jacob Abraham Grohusko: Jack's Manual. Seite 101. Story Cocktail.
50% Boonekamp bitters
50% brandy
Frappez, strain, and serve.
1934 Anonymus: A Life-Time Collection of 688 Recipes for Drinks. Seite 46. Story Cocktail.
1/2 jigger Boonekamp Bitters           1/2 jigger French Brandy
.                                                               Frappe
1937 Salvador Trullos Mateu: Recetario internacional de cock-tails. Seite 122. Story Cock-tail.
Media parte Boonekamp bitters.
Media parte coñac TRES COPAS.
Frapé.
1948 Hilario Alonso Sanchez: El arte del cantinero. Seite 396. Story.
1/2 Boonekamp Bitters.
1/2 coñac francés.
Hielo frappé. Revuélvase,
cuélese y sírvase.
Underberg-Werbeanzeigen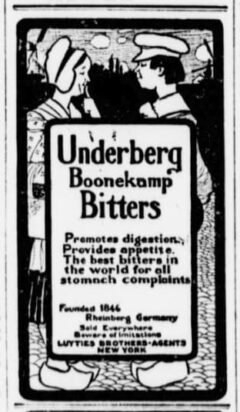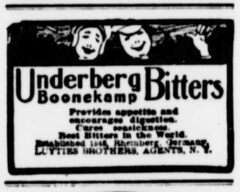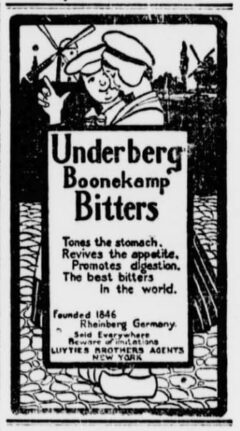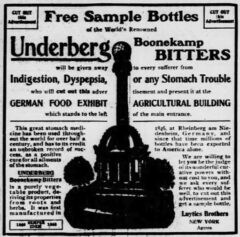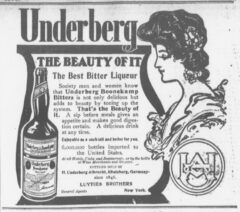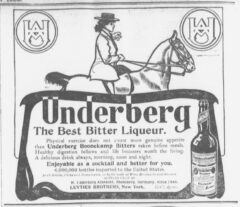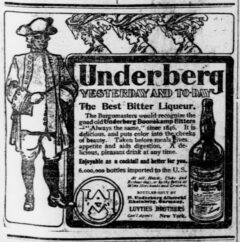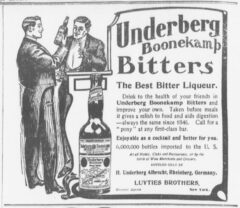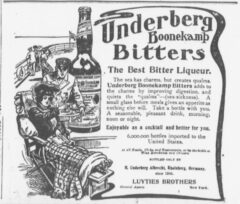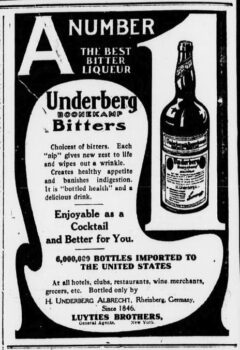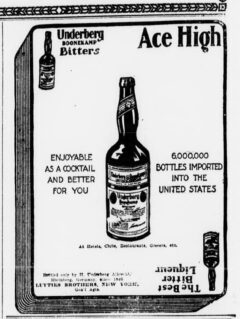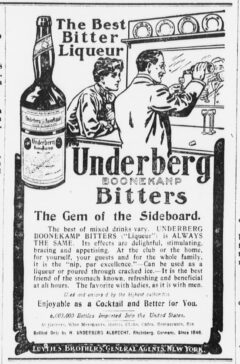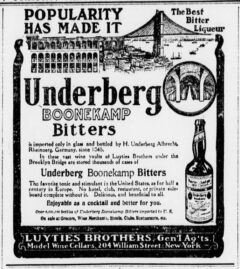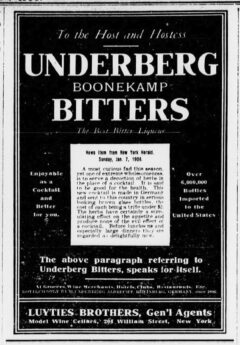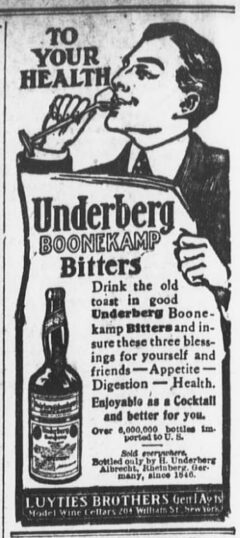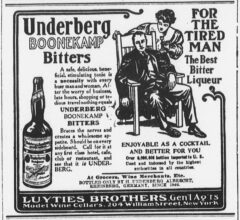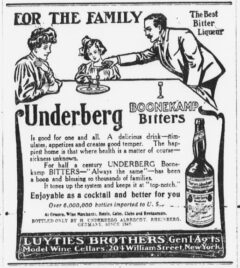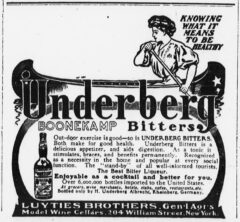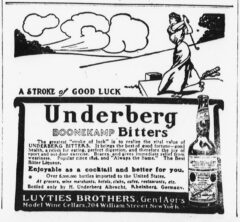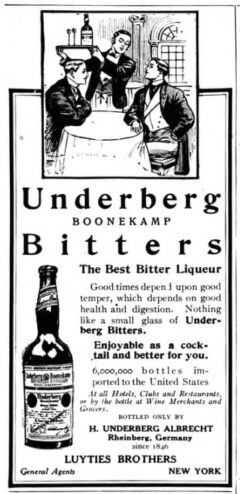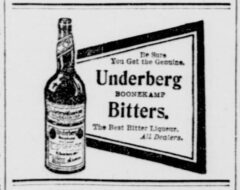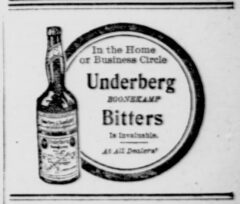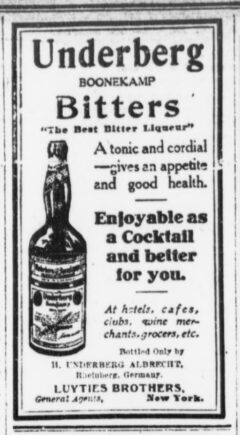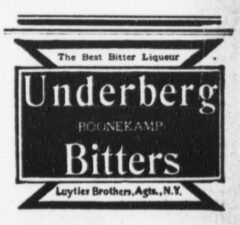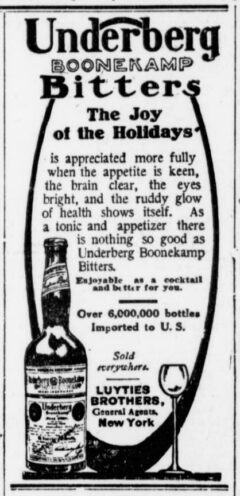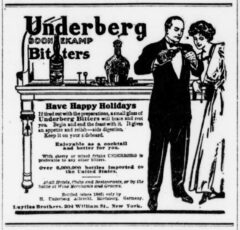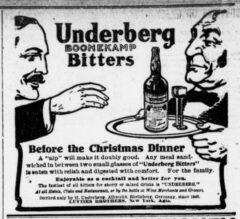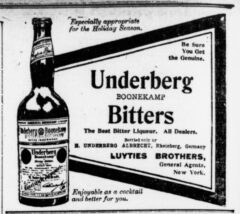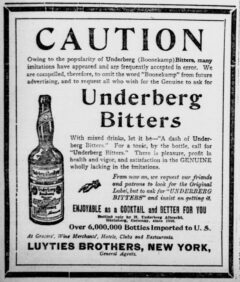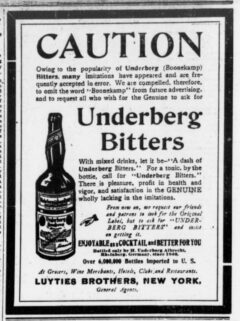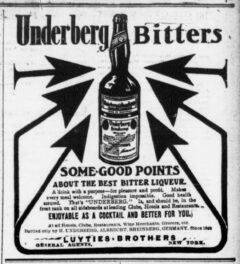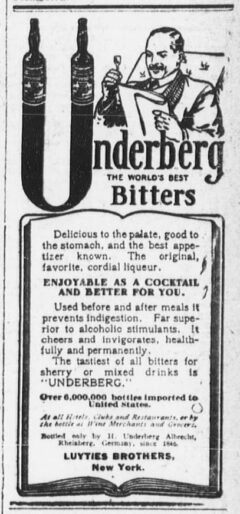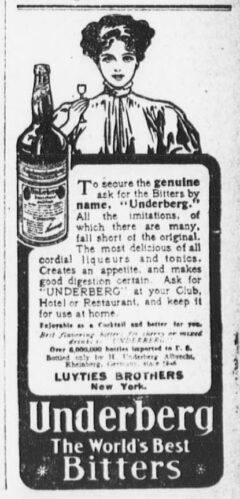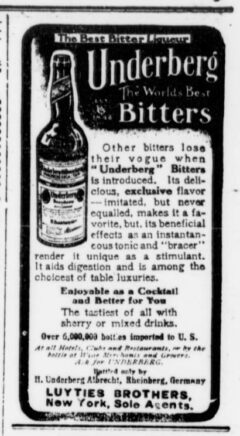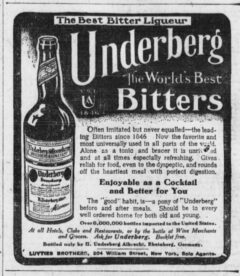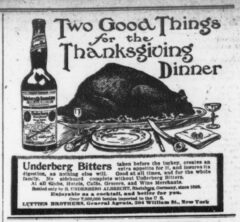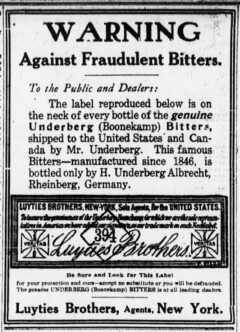 Quellenangaben der Underberg-Werbeanzeigen
explicit capitulum
*